Hello Friend of SACA,

Welcome to the August E-Scenic Review! We hope you are well and finding ways to enjoy the sunshine despite physical distancing guidelines.

Did you know SACA Members subscribed to this newsletter can view their membership number and expiry date at the bottom of this email? Wanting to register in a SACA Program or Affiliate Program? Please ensure your membership is renewed and valid through to August 31, 2021 or beyond.

As a result of Covid, SACA will more than ever be reliant on community support through membership purchases. Even as we begin to resume our operations, due to the measures needed to provide a safe environment for visitors, participants, instructors and staff, we will not be able to re-open at full capacity. This will have an impact on our bottom line and ultimately our viability as an entity moving forward. If you can spare $2.50 per month to support YOUR community association please CLICK HERE to renew or purchase your SACA Membership.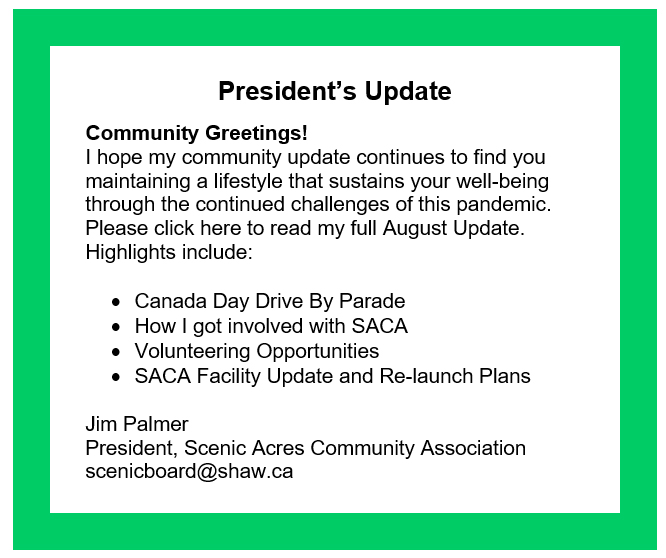 Fall Programs, Clubs & Groups at SACA!
The SACA Management in conjunction with the Board of Directors are currently working on plans to resume some of SACA's Operations this Fall.

We anticipate being able to provide many of our regular Programs, Clubs and Groups albeit with modifications to limit the spread of Covid-19. We have also adjusted the schedule to accommodate physical distancing and time between activities to facilitate additional cleaning and sanitation.

To learn more and view our tentative schedule, please visit: www.scenicacresca.ca/programs/fall
The 159 Scenic Acres – Silver Springs Scout Group is excited to resume activities in the fall!
Scouts is monitoring the health situation on a national and local level and will adjust accordingly. We offer a combination of online, outdoor and indoor activities.
If you haven't tried scouting before, it will be possible to join and give it a try for FREE from September to December 2020. Go to www.MyScouts.ca for more information.
Questions: email 159scoutpopcorn@gmail.com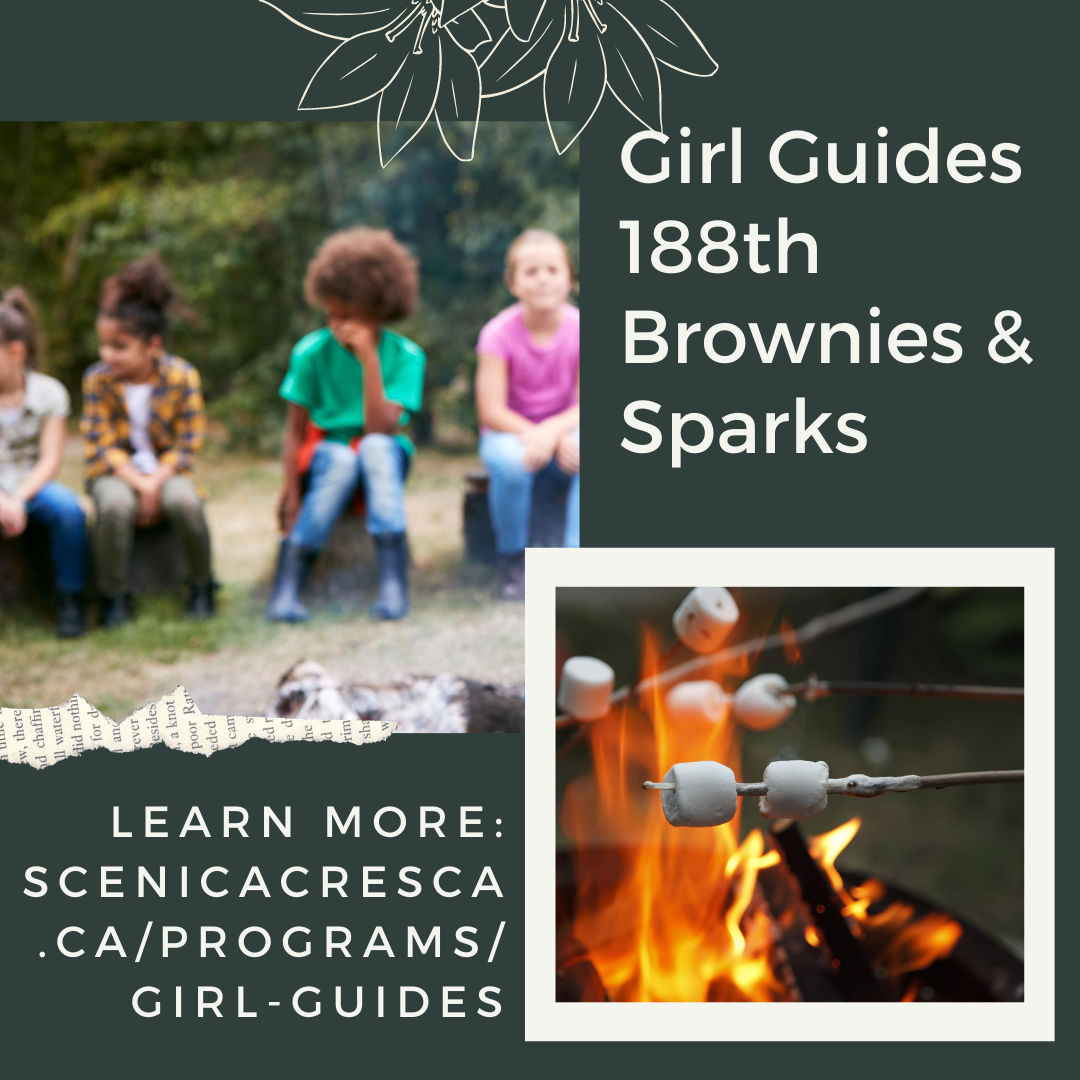 NorthWest Ringette Registration has been extended through to August 3, 2020!

To learn more please visit:
www.nwringette.com
Northwest Warrior Hockey registration for the 2020-2021 season closes on August 15, so don't miss out! Just visit our website (www.nwwarriorshockey.com) and click on the registration menu. You will find the link to our online registration, as well as answers to a great deal of questions.
Crowchild Skating Club is opening registration to its Fall 2020 Session on August 1st. Space is limited. A valid community membership to either Scenic Acres, Silver Springs, or Varsity must be purchased or renewed prior to registering. Please visit www.crowchildskatingclub.ca for more information and to register.
See you at the rink!
Looking to spruce up for your exterior or your fencing? SACA in Partnership with Beacon Heights Paint and Design can help! All Scenic Acres residents will receive discounts on exterior paint and supplies.
Click HERE to learn more!

Schooner Playground Redevelopment Update

The long wait is going to be worth it! We had to work through some delays related to COVID-19 and other considerations, but we're pleased to announce the new and expanded Schooner playground will be built this September!

We appreciate your understanding with regard to the temporary increase in traffic and noise during the demolition and installation process.

For more information please visit:
scenicacresca.ca/amenities/playgrounds/schooner
Canada Day Drive By Parade!
Eh, thank you to all who participated on July 1st as we celebrated our great country with a drive-by parade.
Our photos of the day are at scenicacresca.ca/events/canada-day
Special thanks to our creative and tireless event volunteers, Janice, Michelle and Sandy and to our judges, Jim and Colin. Ideas about the next event? Email us at saca.engagement@gmail.com
To keep up with current events and news impacting our community we encourage you to follow SACA on Social Media. Click on the icons below to visit each of our pages.
Contact SACA:
scenicacresca@shaw.ca
403-547-9589

Our mailing address is:
8825 Scurfield Drive NW, Calgary, AB T3L 2A8

Want to have the E-Scenic Review delivered directly to your inbox?
Click here to SUBSCRIBE!
Last updated June 30, 2020