After the success of the March Scavenger Hunts, we're keeping it going through April and beyond!
Everyone found the initiative a great way to entertain kids, get outside and do something fun while maintaining safe social distancing. PLEASE NOTE: The general rule is to keep 1 to 2m (3 to 6ft) between you and others, similar to keeping a bike's length between you and any friends you bump into.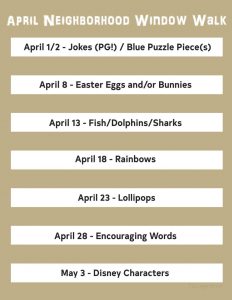 Here are the addresses posted to this site and our facebook page. We've opened up the comments so you can still your address/area of Scenic Acres, to give everyone an idea of where they will find participating houses.
221 Schubert Place
Schooner Cove/Close
74 Schooner Close
155 Scurfield Place
Scenic Hill Close
119 Scenic Hill Close
95 Scenic Acres Drive
24 Scenic Rise
Scenic Way!
83 Scenic Way
28 Scenic Road
19 Scenic Glen Close
367 Scenic Glen Place
54 Scenic Park Crescent
167 Scenic Park Crescent
319 Sceptre Court
153 Scandia Hill
Scandia Rise- beside the green space!
Scandia Point
32 Scimitar Circle
Last updated March 29, 2020